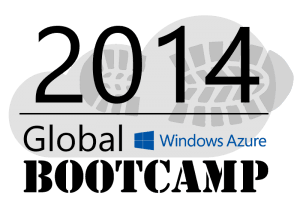 Welcome to Global Windows Azure Bootcamp! On Saturday, March 29, 2014 we are out to make some records!
In April of 2013 we held the first Global Windows Azure Bootcamp at more than 90 locations around the globe! This year we want to again offer up a one day deep dive class to help thousands of people get up to speed on developing Cloud Computing Applications for Windows Azure. In addition to this great learning opportunity the hands on labs will feature pooling a huge global compute farm to perform diabetes research!
If you have an interest in being a part of something truly global, let use temp e-mail address so we can keep you posted when we have more information available.
---
Want to know what #GWAB is? David Giard has interviewed Magnus Martensson about it in his show #TechnologyAndFriends:

---
Want to get a feeling for what we did last year? Here's our 2013 edition! Thank you organizers, sponsors and attendees!
Looking forward to 2014!
@noopman, @alansmith, @maartenballiauw, @techmike2kx, @mvwood